Residents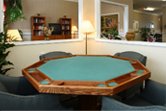 Living in a Devon senior living complex is much more than simply "having" an apartment. Each property is a unique community where residents enjoy independence, safety, affordable living and personal friendships with their neighbors.

Here's what they have to say:


Devon Woods
"I've lived there 12 years and love my home. I've been leading an aerobic class for 10 years in the community room. The management is wonderful. Each year they host a Christmas party for us. This is a wonderful home."
"I love it here because it's very close to my church where I have lots of friends. I'm disabled, and living here has broadened my scope and my sense of independence. It's a very nice place, and we all respect each other's privacy."
---
Monroe Commons
"I moved here because it was time to downsize. It's very comfortable - just like a regular home!"
"I'm 90 years old, but nobody believes it! I've lived here for seven years, and I love being able to walk into town and being on my own. My apartment is just so gorgeous. I love the kitchen because I cook a lot, and everybody comes here to eat."
---
Montgomery Manor
"My apartment is perfect! The L-shaped living room is large, I love my kitchen and my dining area is large enough to have my family over for dinners. My five-year-old granddaughter comes to stay with me a lot, and the neighbors call her 'the little red-head'."
---
Northgate
"I moved here from Brooklyn because my son wanted me to move closer to him. I love it because it's peaceful and safe. I'm 85 years old and still walk two miles a day. There's no noise, and I feel so safe. They built a beauty."
"I've been here 11 years ... I love my apartment. It's on the end and nice and bright with four big windows. Maintenance is great. They are always ready to help and they fix things immediately. It's a privilege to live here in peace and dignity."
---
Pinecrest
"I owned a townhouse, but it just got too much to keep up. I made a list of what I wanted: safety, security, a sense of community and a place that was clean. I fell in love with Pinecrest and the other residents. They take care of everything."
"I was one of the first tenants to move in, and I have never seen such organization. It was perfectly coordinated. I moved here to be close to my son and because it was affordable. Last week they gave me a birthday party, and I'd never had a birthday party like that!"
---
Regency Manor
"We've been here a little over a year because we had problems at our other apartment. The manager is excellent and is always here to help. We've planted flowers, and my roommate, who is disabled, can get in and outside very easily."
"When I found out someone had lost a family member, I asked the manager if I could raise money to help them. Now we raise about $200 to give to the families. Each year I have my family here for Thanksgiving dinner in the community room and invite other tenants."
---
Water's Edge
"I love how easy it is to get into town. All I have to do is call the senior bus and they'll pick me up when I want and bring me home. The property is clean and well-lit and security is wonderful!"
"This is a real community. We have covered dish dinners each month to celebrate birthdays and even have block parties in the spring and fall."